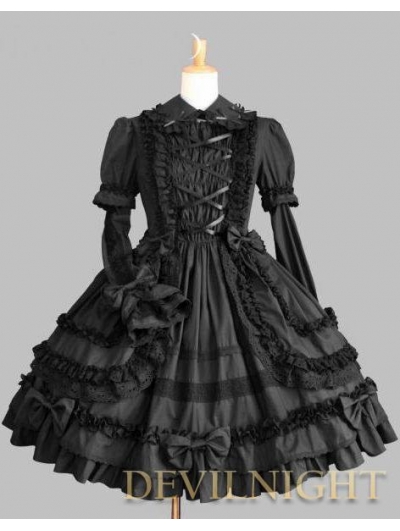 Do you want to be sweet and dangerous? Come and try out to be a gothic lolita.Take off those frivolous colorful bubble skirt and take on a piece of dress of pure black and white. Get ready to ride a time machine and fly all the way back to the ancient England.
If you tend to be a little more consevative, the traditional Gothic Lolita,which wears plain black clothing with white lace is high recommended for you. It is more like a dark version of the ordinary sweet lolita. Therefore, in addition to be a still sweet lady, you can also add something gloom and obsure to the usual style, a great choice for a late-night gothic party. If you are intense enough and are longing for something even spicier, another type of gothic lolita is definitely gonna be your choice. This type of
gothic lolita dresses
are less cute and more "gothic" for the common usage of motifs like crosses, bats, coffins and crowns. There are more choices of colors for this type of gothic lolita such as wine, royal blue, deep plum, white, silver and gold.
Generally speaking, the style is dark, cute and elegant, filled with gothic elements. Compared with the sweet lolita dresses, it has less ribbons and lace. For fans of gothic culture and mysterious elements and also someone who wants something less poofy, a Gothic Lolita is something great to try out. Of course, usual lolita accessories like overknee socks, headdresses and platform shoes are always available to be added if you want.